Are you looking for a coating for your tennis club? Are you the director of the top ATP tournaments? You need a floor coating adapted both to indoor and outdoor? Ecoplas invites you to discover its Pro Cup range : The acrylic élastomère resin ideal for tennis practice.
The engineers and technicians of Ecoplas research department conceive, manufacture and sell a completely innovative acrylic elastomer resin adapted to the tennis market. it is declined in two versions : Pro Cup and Pro Cup Elite.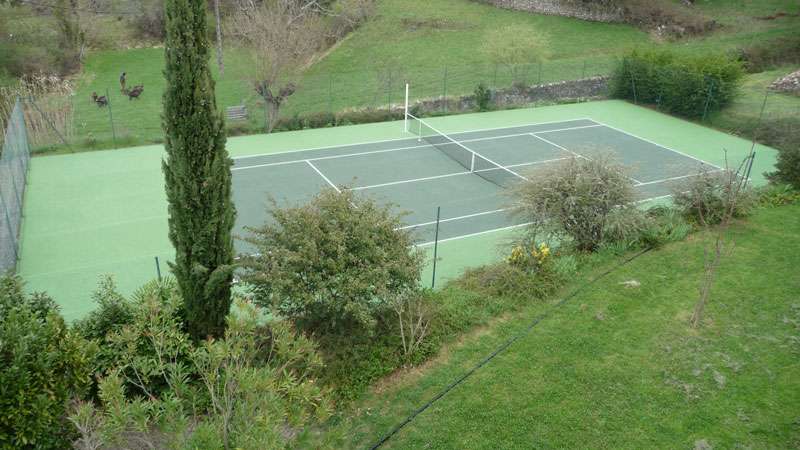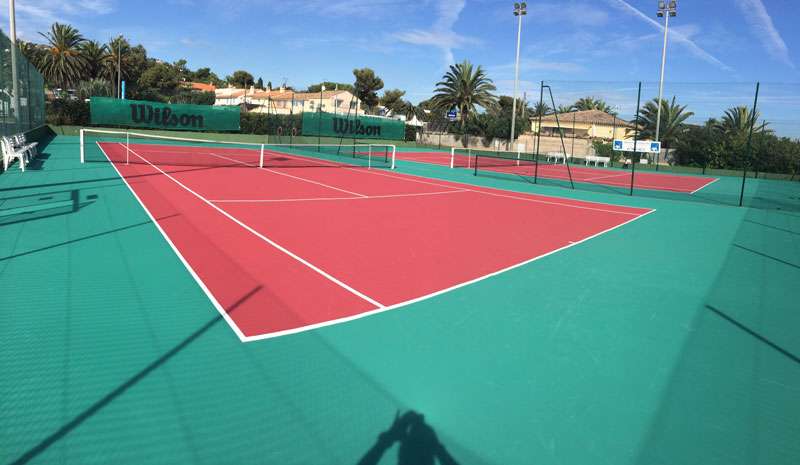 Pro Cup ® Elite :

THE COATING OF THE TOP TENNIS TOURNAMENTS


Pro Cup Elite is the ideal coating for ATP tournaments and professional  players. Perfectly adapted for an indoor/outdoor use, this innovation created by Ecoplas relies on the adding of synthetic fibers on its formula. This will ensure you a perfect wear resistance, an anti-slip playing comfort without foot lock-down. Flexible and impermeable, the coating is cast in-situ without joints. It is available in 10 colors.

Pro Cup ® Elite Pro : For indoor professional teournaments.
Pro Cup ® Elite Premium : For top level players
Pro Cup ® 500 :
UN CONFORT OPTIMAL POUR JOUEURS AMATEURS OU DE LOISIRS


Pro- Cup is easy to apply and uniform, it is the perfect surface for club and amateurs players.
This acrylic resin type of coating is made with micronized silica and ensures a performance stability over the long term. The quality of the blinder, the silica and coloring, gives to the ball a lively bounce increasing its speed and maximizing its effects.


Pro Cup ® 500 Standard : For amateur or recreational players
Pro Cup ® 500 Cushion : For club players and trainning
Pro Cup ® 500 Confort : For high level players
QUALITY TESTS ON
PRO CUP RANGE
All the range of ECOPLAS Pro Cup products have been tested in France (EN14877) and in Great Britain (ITF certifications) for current standards.
Pro Cup ® 500 et Pro Cup ® Elite accord players with an excellent ball bounce, a safer foot pivoting and a shock absorption to play tennis in excellent conditions.
THE APPLICATION OF
PRO CUP SYSTEMS
The Pro-cup ecoplas systems is both suitable for a new work or renovation. they are perfectly adapted for club and competition use. For the optimum application, the surfaces must be clean, dry and comply with DTU 59/3 and 59/1. They can be applied on new substrates and in certified plywood CTBH. the application must follow the technical data sheet available on the technical support. A hanging layer must be applied : Pro Cup Primer for all the surfaces,except for concrete.Isosol Primer or Fixprim if the concrete is raw or new.
Our cetifications are the warranty for Ecoplas products.


ETUDE PERSONNALISÉE ADAPTÉE À VOS BESOINS
Remplissez le formulaire de demande devis

ATP 1000 Paris Bercy (2009, 2010, 2011),

ATP 250 Saint Petersbourg Russie (2010),
ATP 250 Open de Moselle (2016, 2017, 2018),

ATP 250 Open 13 de Marseille (2014, 2015, 2016, 2017, 2018),

ATP 250 Open Sud de France Montpellier (2010),
Cup Davis (1/8 de finale, 1/4 de finale, 1/2 finale 2010) 
National training center (CNE – Rolland Garros 2009, 2010, 2011, 2012, 2013, 2014)
And also a lot of club tournaments in France and Belgium