Experts in the development of sports floors coatings, we also make Polyurethane (also called PU), exclusively conceived for indoor use.
Our Polyurethane  floors ensures you an optimal comfort of playing specially for handball, volleyball or basketball activities.Resistant, flat and with a nice elasticity, our PU coating has the advantage of being competitive and easy to maintain.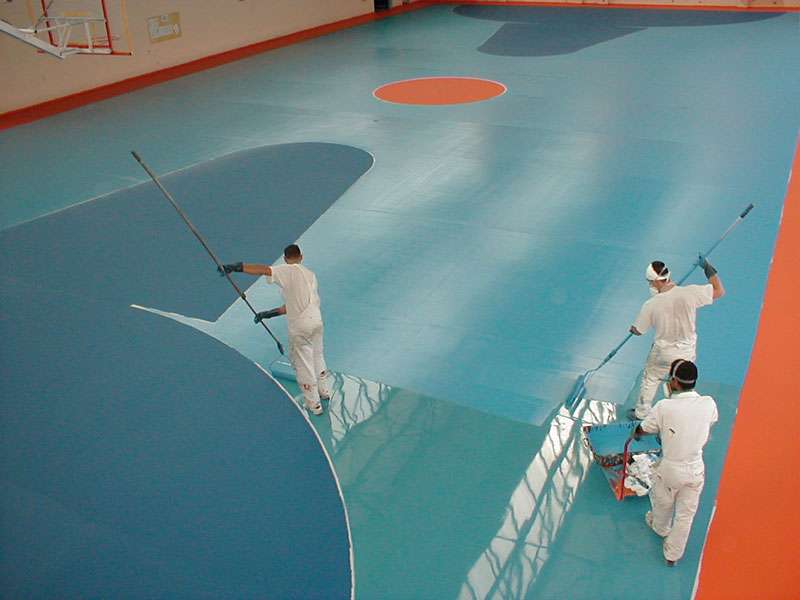 WHAT IS A
POLYURETHANE FLOOR?


Polyurethane is a resin made of two main elements : a base and a hardener. The advantage is that they make the coating very solid and flexible. We manufacture, market and propose our advice to all our clients wishing to buy and apply this indoor resin.
WHY CHOOSING
A POLYURETHANE FLOOR?


Conceived to resist to a high mechanical load, we manufacture a specific Polyurethane for the optimized use of gymnasiums,multisports and multipurpose halls. Therefore we propose to the communities a material totally adapted to their needs.
While today the sports halls are used for different types of events such as sporting events, cultural meetings or community activities, we propose a high resistant Polyurethane material, conceived for an intensive and multipurpose use. Is is particularly adapted for high level sports men and women, but also for amateurs, and to cultural and funny events.
THE DIFFERENCE BETWEEN

ACRYLIC AND POLYURETHANE
Acrylic is a floor coating intended for sport fields or tennis courts situated indoor or outdoor.
Polyuréthane is a resin made exclusively for an indoor application. Normally used for the multisports and multipurpose halls, this highly performant material is adapted to all sports also to many collective activities apart from tennis. Indeed, for tennis we recommend you to choose one of our specific acrylic coatings.
Soft and multipurpose, the Polyurethane resin is both strong and adaptable, and this makes its high resistance to shocks. Without joint or weld, Polyurethane has also the benefit to be practically insensible to temperature variations and the effects of ageing.
Worked out by our care, responding to very high european standards, our polyurethane coatings are easy to maintain and are particularly suitable for the public community.
OTHERS USE
OF POLYURETHANE
As an expert manufacturer of polyurethane sports floors, we have noticed that the purposes evolve from year to year.Belonging to the family of cast flooring, PU coatings are not longer restricted to an industrial or public use. Beyond its maintenance and resistance qualities, it has the advantage of being castes seamless, offers a wide range of colours, excellent sound insulation and a flexible warm contact for a very pleasant day to day use. That's why more and more individuals choose a PU for their indoor floor.
Committed to develop high technology materials to obtain top performance, Ecoplas is always working on the qualitative optimization of its PU production.
Our cetifications are the warranty for Ecoplas products.