Ecoplas manufactures and markets acrylic floor coatings perfectly adapted for indoor and outdoor use. They are conceived for indoor or outdoor all type of surfaces aimed to receive public or sports activities.These high performing surfaces ensure you a higher UV and weather resistance as extraordinary quality and grip.Ecoplas offers you a wide range of products which meet the requirements of all sporting activities or public areas. You also benefit from its expertise and know-how.
Discover a range of the different coatings and acrylic resins made by Ecoplas, based on your profile and needs.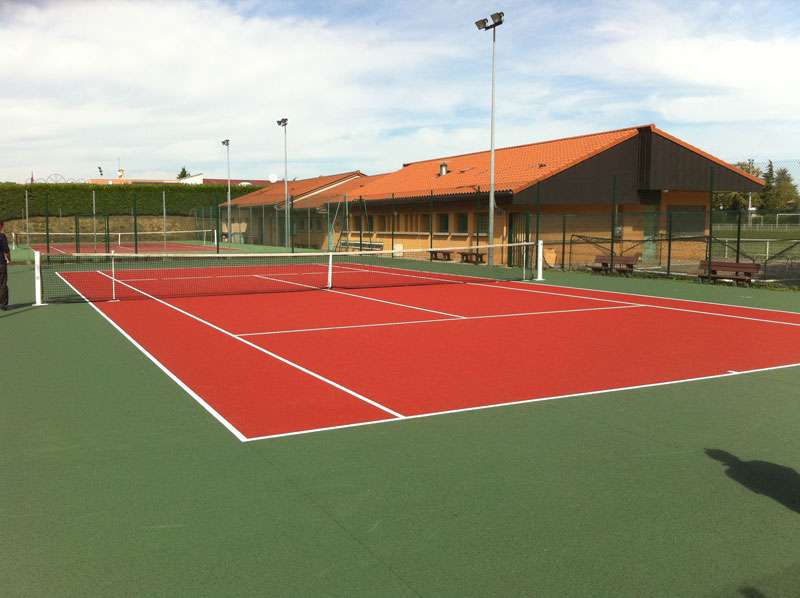 ISOLATEX PAINT AND Pro Cup ® RESINS :
THE PERFECTS SOLUTION FOR TENNIS COURTS
You are a tennis specialist and you wish to find some technical solutions adapted to this sport practice, made for indoor/outdoor, providing you a high wear resistance?
• Isolatex paint type elastomer resin
Isolatex has been designed especially for different installation and surface constraints.It is highly appreciated in the sport facility construction for its reliability, and 3 to 5 years guarantee.
• Pro Cup ® Acrylic resins:
Coating of the major tennis tournaments! Result of the research of the Ecoplas laboratories, the Masters range is used in the courts of the major ATP tournaments. It appears like a real technological innovation as it includes synthetic fibers in its formula. Acrylic resin laid in situ made up of mass colored micronized silica without joints which ensure flexibility and impermeability. You will appreciate its high resistance to wearing and the comfort of the non- slip game that doesn't lock the movements.
THE ALL STARS MULTI-SPORTS COATINGS
FOR DEMANDING SPORTS PERSONS


You are in charge of sports of basketball, handball, volleyball or tennis and you are looking for a sport coating that could feet both an indoor and outdoor surface?
Ecoplas has developed the All Stars Multisports coatings, especially conceived for demanding conditions and particularly recommended for indoor/outdoor practice. They can be installed on all types of substrates ( concrete, coats..) and are relatively insensitive to changes in temperature.
Our cetifications are the warranty for Ecoplas products.


ECOPLAS GO-FAST :

ACRYLIC SYSTEM OF MINIMUM 4 LAYERS FOR ROLLER AND CYCLE TRACKS


You represent a community and you are looking for a sport floor coating which respond to some requirements for your public areas with an affordable budget ?
Multilayer method of acrylic resin laid in situ. Two systems depending on the performance desired.10 colours. A non slip but non abrasive rolling surface. Respect of the environment and the existing standards.
PLASTIPARK :
COATING FOR BITUMINOUS BINDERS OR ASPHALT


Are you representing a city hall or a local community you are in charge of the urban planning to improve the lives of your citizens?
Ecoplas has developed Plastipark : The perfect solution for schools playgrounds, garden backyards, walkways, cycling tracks and traffic islands. Available in 10 standards colours, they signal and protect the surface of the bituminous binders or concrete. Non-slippery, they guarantee you resistance to UV and severe weather.